Edit
Tuesday November 27, 2012
Officers of the Grand Family Association of the Philippines Visits Chung Sun Woi Kwon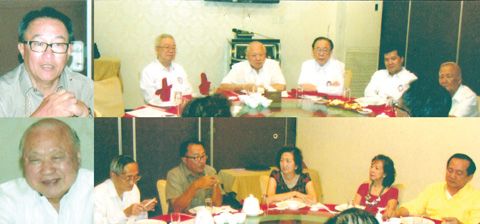 Officers of the Grand Family Association of the Philippines Visits Chung Sun Woi Kwon.
圖片說明:宗聯首長訪問旅菲甄湯中山會館。左小圖上,甄惠年。下圖吳榮燦。
右上圖左起:潘用揖,吳榮燦,李國材,吳銘洲,傅孫土。右下圖左起:甄炳紹,甄惠年,甄許美緻,甄秀燕,甄炳興
  Members of the Grand Family Association of the Philippines, the administrative officer Mr. Ong Eng Chan(吳榮燦),潘用揖,李國材,謝銘洲 and his associate 傅孫土 paid a visit to Chung Sun Woi Kwon (旅菲甄湯中山會館) on November 15, 2012. They were warmly received by the honorary President, Mr. Henry Ah and Mr. Max Ah, the President, Mr. Francis Yan, the Vice President, Ms. Judy Yan Co and the Women's Group Representative, Mrs. Betty Ah.
  In his opening remarks, Mr. Francis Yan shares that majority of their members currently reside in different localities, making it only feasible to meet on special occasions such as the Spring and Autumn festivities. Celebrations are so organized that all attendees will enjoy the reunions. One of the major highlights of the recent year is the production of the family tree album. It's a detailed compilation of the ancestral roots and lineage of every family of the association. With the hope that it will help the younger generations appreciate the organizational functions of Chung Sun Woi Kwon (旅菲甄湯中山會館).
  Subsequently, Mr. Ong Eng Chan(吳榮燦), expressed that their appointed task of visiting the members of the Association has come to an end and gave encouraging remarks on two regards namely: improvement in attendance punctuality and in economic frugality within the Filipino Chinese communities. He hopes that these favorable observations and good business practices can be sustained over time.
  The Board members of Chung Sun Woi Kwon (旅菲甄湯中山會館) hosted a goodwill luncheon for their guests at the Crown Prince Seafood Restaurant.
  菲律濱各宗親會聯合會訊:本會常務理事吳榮燦,潘用揖,李國材,謝銘洲,秘書長傅孫土於十五日訪問旅菲甄
湯中山會館 (Chung Sun Woi Kwon),受到名譽理事長甄炳興先生,甄炳紹先生,理事長甄惠年先生,副理事長甄秀燕女士,婦女組甄許美緻女士等熱烈歡迎。
  首由理事長甄惠年先生致詞時表示,旅菲甄湯中山會館會員多數散居在外省各地,在春秋兩祭時,才能歡聚一堂,唯可慶幸本會館今年編制一本族譜,詳細記錄各輩份族長,期望能幫助下一代年青族親認識宗親會的結構及宗族的輩份。
  繼由值月常務理事吳榮燦發言表示,本會訪問所屬各會員宗要會的工作,已經將近結束,有關節約守時的宣導,亦漸見生效,大多團體會議或慶典活動,都有尊照請帖所印時間開始,但願華社能繼續保持此一守則。
  旅菲甄湯中山會館並在燕園王子酒家招待本會到訪人士。
稿件来源:菲律賓商報