Edit
About Us 簡介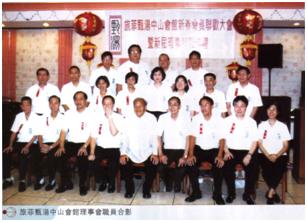 CHUN SUN WOI KWON (CSWK) is the Association of overseas Chinese, with surnames "YAN" and "TANG", who were originally from Guangdong and are now living in the Philippines. Established in 1927, it has one of the longest and richest histories among the Chinese clan associations in the Philippines.
The Association used to hold office in a rented building facility which also served as free living quarters for elderly compatriots. To save on costs, after the elderly residents had passed on, the Association decided to give up the lease. Fortunately, the Honorary President, Mr. Henry Ah generously offered an office space in the corporate office of their family business, Liberty Bakery, as the CSWK secretariat office up to the present.
CHUN SUN WOI KWON is an affiliate member of the Grand Family Association of the Philippines, Philippines Federation of Filipino-Cantonese Association, Inc., and Philippines Alliance of Filipino-Cantonese Association. Members of these three umbrella organizations often join forces to organize charitable projects and social services which benefit the Filipino-Chinese community.
In accordance with the provision of their by-laws, the Board of Directors schedules the election and induction of new officers, holds quarterly meetings presided by the chairman, and convenes special meetings for urgent and special matters.
Despite concerted efforts by overseas Chinese in the Philippines to preserve the customs and traditions of their homeland, these are slowly disappearing due to acculturation. For instance, many of their second and generation descendants no longer speak Cantonese.
Realizing that they stand to lose their Chinese cultural identity altogether, if urgent and more effective measures are not undertaken to address this alarming concern, the Philippines Alliance of Filipino-Cantonese Association and the Federation of Filipino Chinese Chambers of Commerce and Industry, Inc. have organized several projects to enable overseas Chinese in the Philippines to rediscover their Chinese heritage.
For several years now, they have been offering free summer classes for non-speakers to learn Cantonese. Likewise, they have organized trips to China for those who desire to rediscover and absorb the culture of the motherland and trace ancestral roots. These trips, not only rekindle people's pride in their rich Chinese culture, they also promote understanding among town-mates and create bonds with their ancestral heritage.
本會的名稱為〝旅菲甄湯中山會館〞,是旅居菲律賓甄、湯兩姓粵僑的宗親會組織,大約在1927年成立,在菲律賓的眾多宗親會中,是具有歷史較悠久之一的團體。
本會原租有一座樓房為會所,兼供耆老鄉僑免費住宿,行之多年。現因己無鄉僑申請住宿而退租,以節省本會財政開支。寵蒙名譽理事長甄炳興宗妄慨借其自由麵包廠之辦公室,權充本會秘書處場地,會務得以繼續推展。
本會是菲律賓各宗親會聯合會(簡稱宗聯),菲律賓廣東僑團總會(簡稱廣總)及粵僑聯合會(簡稱粵聯)的會員,經常配合聯繫該兩大團體屬下各會員推行有關菲華社會之慈善公益福利事業,從而提高了本會的聲譽。每屇理事會都依章程規定依期改選及舉行就職典禮,理事會每季舉行餐會一次,如遇緊急或特別事故,由理事長召開特別會議處理。
海外華人在異鄉落葉生根,雖然在若干方面尚盡量保存固有傳統習俗,但因環境關係,己有逐漸式微之趨勢,如下設法謀求補救,相信以後可能受到同化而湮沒,這是一項隱憂。尤以現在的第二、三代,很多都不會講廣東話,本會已多年鼓勵會員子弟免費參加粵聯與菲華商總每年言辦的暑期的粵語究習班,也多次組團回鄉尋根,使他們吸收祖國文化,以後在僑居地能夠繼續做中國情結的華人,保全鄉情,宏揚祖國文化。